HARDWAREMART FACEBOOK PAGE LIKE & SHARE CONTEST (8th June 2021 to 31st August 2021)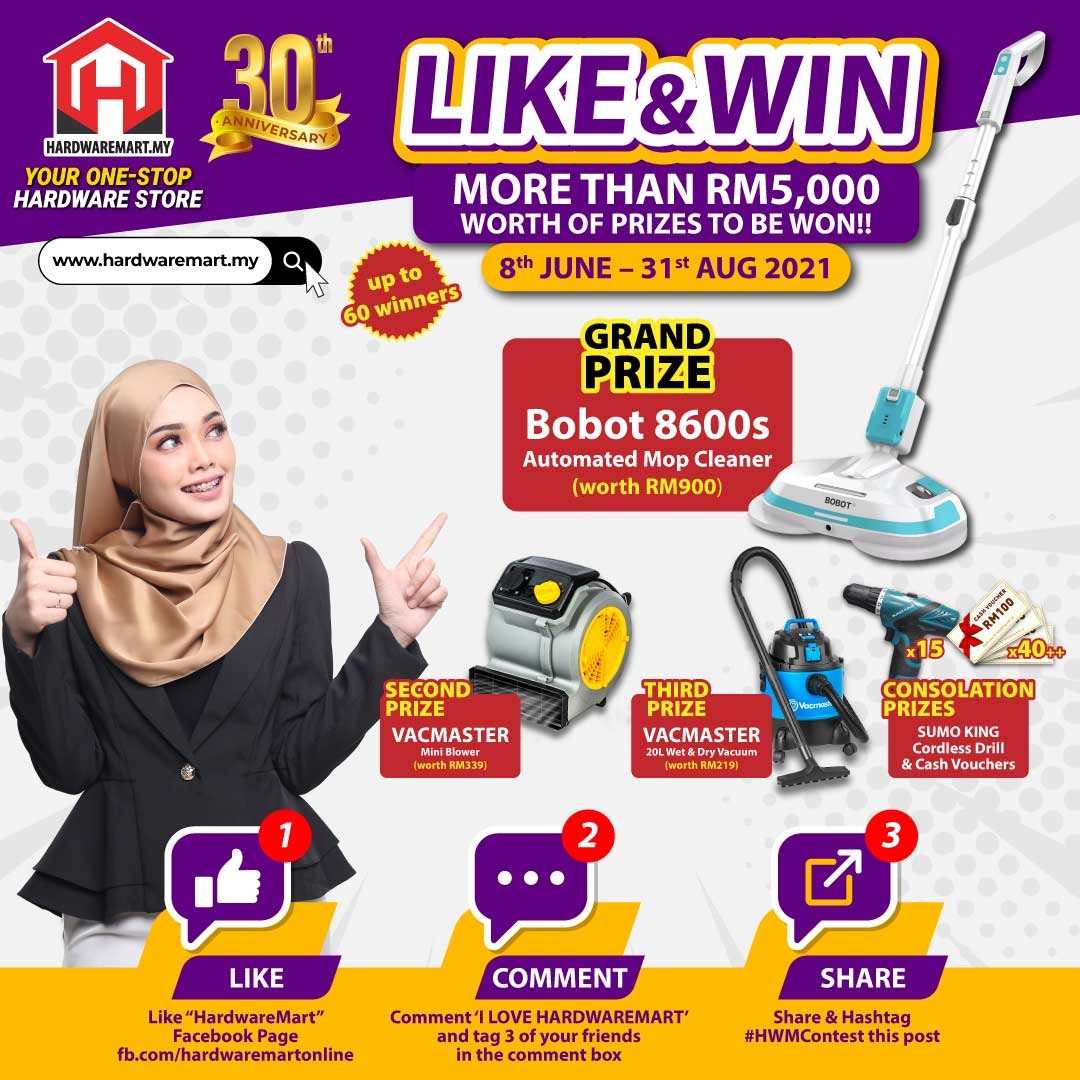 [LIKE & SHARE] Stand a chance to win more than RM5000 worth of prizes from us!!
In the celebration of the 30th anniversary of CTS (principle owner of Hardwaremart), we're are in the spirit of GIVING!
Do yourself a favour! follow the 3 steps below & you could be one of the lucky 60 winners to win some great prizes & cash vouchers
OK! So how to join this contest? Here are the three simple steps;

Like "HardwareMart" FB Page
Comment with 'I HARDWAREMART' and tag 3 of your friends in the comment box.
Share & Hashtag #HWMContest this post
Here's What You Can Win!
Grand Prize
:
BOBOT 8600S Automated Mop Cleaner! (Worth RM900)
Second Prize
:
VACMASTER Mini Blower (Worth RM339)
Third Prize
:
VACMASTER 20L Wet & Dry Vacuum (Worth RM219) x 1
Other Prize
:
RM10 E-wallet Cash Voucher x 20
RM20 E-wallet Cash Voucher x 10
RM50 E-wallet Cash Voucher x 8
RM100 E-wallet Cash Voucher x 4
SUMO KING Cordless Drill x 15
Join now! Contest ends on 31th August 2021
Terms & Conditions
Submission period of this event starts from 8h June 2021 till 31st August 2021.
In order to participate in this Contest, each entry submitted must complete all the steps in the Contest. Any incomplete entries will be disqualified
The cash voucher cannot be exchanged for cash. It will be randomly given either by TnG, GrabPay or Boost eWallet
Visual of the Prizes shown are solely for illustration purposes only and may not depict the actual colour of the Prizes.
The Organiser shall reserve the right at its absolute discretion to substitute the prize with that of similar value, at any time without prior notice. The prize is non-transferable and not returnable, not exchangeable for credit, and other items or voucher.
Prizes which are lost and/or damaged during the delivery process are not replaceable and the Organiser disclaims any and all liabilities arising therefrom.
The Organiser reserves the right to modify, suspend or cancel the Contest in the event it becomes not possible for the Organiser to run the Contest as planned.
Highly advised to visit the Organisers' facebook from time to time to ensure that aware of any updates and changes made.
By participating in the Contest, Participants agree to be bound by the Contest Rules and Regulations, and the decisions of the Organiser.
| | | | |
| --- | --- | --- | --- |
| #HWMContest | #ILOVEHARDWAREMART | #hardwaremartonline | # HardwaremartMY |